Cheung Chau, a Hidden Gem of Hong Kong That Has No Intent to Shine
Life often runs in cycles where everything old can become new again. This has been very apparent during a weeklong expedition with my wife to Cheung Chau, an island located six miles southwest of Hong Kong or 30 minutes by ferry.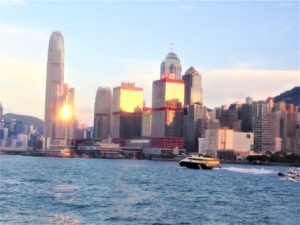 Cheung Chau is only about one square mile in area and has fewer than 30,000 permanent residents. Traditionally, the island was, and still is, a fishing village; however, recently it has emerged as a tourist destination because it has managed to avoid the hipster culture that's evidently afoot almost everywhere else nowadays. There are no flashy, high-rise constructions or lavish oceanfront condos. Most notably, there are no private automobiles throughout the island; thus, people only move around, joyfully, on foot or by riding bicycles. Ironically, the very reason I left China for America back then, about 30 years ago, was to fulfill my dream of living a modern life, symbolized by the American way on four wheels.
The fast ferry (there is also a slower one at a cheaper rate) runs 24/7 for only 24 HK Dollars (or the US $3.00) one-way, which bridges the two entirely different worlds together. On one side is Hong Kong, one of the most flourishing metropolises in the world, and on the other side is Cheung Chau Island, which is anything but that. As the boat pulls away from the pier at Hong Kong Central, right across the street from the 88-story International Finance Center building, we leave the megacity and all its classy skyscrapers in the distance. Like slow-motion time travel, we drift into the past, which is Cheung Chau Island today.
Old-fashioned fishing boats are randomly docked in the harbor. What intrigues us, stepping off the ferry, are all kinds of food stands, kiosks, and small shops lining this curvy Harbor street for miles. Pedestrians and vendors seem to be totally intertwined on this sunny afternoon since no automobiles mean no traffic rules.
The only hotel on the island (Warwick Hotel) is a 7-story building located on one end of the beach facing the unobstructed ocean. Hong Kong skyscrapers are on the other side, even visible from the hotel balconies on a clear sunny day. Probably not quite a 4-star, but the room is clean and comfortable at only $100.00 per night for two, and it's still in Hong Kong! You just need to bring your own coffee if that's what starts your day; and your kids might be disappointed when turning on the TV since all programs are in Cantonese, which I don't understand either.
Being in a new location halfway around the world from my American home, I have quickly developed new routines. I get up before 5:00 am because of jet lag, brew a pot of coffee, grab a mooncake or two, and set everything up on the balcony table within 10 min. Although it's still in complete darkness, the beach underneath is lit. Gazing at the cosmos around me with a cup of coffee in my hand, I'm immersed in this panorama. While the ocean simmering rhymes are quieting the surroundings, slightly salty breezes are brushing my cheeks, cleansing the skins, and soothing the mind. Twinkling fishing lights like fallen stars from the sky have dotted the dark ocean in the distance, in stark contrast to the background of far-away illuminations coming from Hong Kong.
It is a eureka moment, almost too surreal to absorb all at once. But I quickly snap out of it realizing I have more things to do. I change into my swimsuit, grab a towel, and then tiptoe barefoot down to the beach and into the ocean, guided by the lights from the fishing boats. In October, temperatures are perfect both in the air and sea.  After my swim, I get back to the room as my wife is getting up.  We then get ready for an authentic Cantonese breakfast, a dim sum style, soon to be delivered from a nearby local eatery about a hundred yards down the road.
Bicycles are free to rent from the hotel. They are brand new bikes with multiple speeds for hilly island terrain. My wife and I tour one section of the island on the bike ever so leisurely since no cars are present to stir up smelly dust or honk horns. We stop periodically, sampling the local culinary culture at street vendors for their munchies and ice creams, surveying the hundred-year-old temples with incense burning inside, whiffing the exotic aromas that come at us as we navigate through the neighborhood alleys. I'm picturing what it would be like to live here for a month or two at a time.
The afternoon is a good time to tour the shops and venues on foot, where the locals hang out. Some narrow residential alleys and hilly cobbled back streets seem to be designed for only three people walking side-by-side, but the locals can find everything for their daily needs there: bakeries, cafes, grocers, fruit stands, dental offices, and even B&Bs. The residential buildings and small courtyards situated on both sides of the alleyway look crammed, seriously dated and modest, and yet, they must be incredibly sanitary because my nose would detect that even before my eyes. I can't find any trash bins anywhere throughout the neighborhood. So how do they do it, especially when they have to handle daily catches from the ocean?
Getting lost is the precursor to making great discoveries, and it happened to us all the time as we never used any maps while strolling around. At one point, I found a cold German beer at $1.00 a bottle in a tiny store. It was exactly what I needed after meandering under the sun for a couple of hours. Yesterday, I spent four times as much for a bottle of Tsingtao in the hotel! Another time, we stumbled upon a type of old-fashioned Cantonese dry noodles in a small noodle shop that we always liked it but no one seems to make them anymore. Many B&Bs and private units are for rent priced from $30 to $100 per night. Since Hong Kong was a British colony not long ago, all street signs, tourist information, and official announcements are both in Chinese and English, and many people can converse in English as well.
Hiking is high on our list to do, which can take weeks to walk all the trails crisscrossing the ruggedly beautiful mountains that cover almost the entire island. The trails are so well built they literally name them 'Little Great Wall', and its tranquility appeals to me the most as we encountered few people for the half day we walked them. The sceneries along the way–some historical, some geological, some natural–are breathtaking. We lost track of time and my iPhone stayed in my pocket untouched for a whole day. If one believes in the idea of a digital detox, which I highly recommend, staying here for a few days is definitely one way to do it.
Another craving during my stay here is the seafood. Where else could you find it fresher and cheaper than in a fishing village? For those who know Chinese food, Cantonese style is rated the best, by far, due to its variety, delicacies, and healthiness (with very little grease). Although Hong Kong is the best place to get it, but for a rather high cost. Cheung Chau, on the other hand, a miniature version of Hong Kong, has everything authentic but at less than half of the price! Even in the hotel, there are plenty of choices on the menu, all priced reasonably. They even cook your own seafood for you, which can be delivered from the harbor after you have paid it over there–at a fractional cost.
Above all else, my favorite time of the day is when dusk falls and the seafood night market starts to get bustling. It stretches on for a mile on the harbor street, under huge tents because of the year-round warm weather. With fishing boats docking on the other side of the harbor street, you get the same day (or even within a few hours) catches right off the ocean, to the table, for less than $40.00 a meal for two. Besides your chopstick skills, be prepared for whole fish with bones, crabs, shrimp, and all other shellfish. The trick is to use your hands or you'll miss out on more than half of the choices on the menu.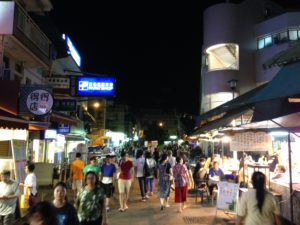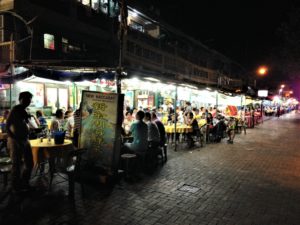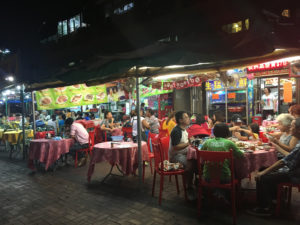 Unlike some Western table etiquette, certain table manners are not part of the culture here, but appreciating the wholesome delights is. Living like a local, to me, is the best way (or possibly the only way) to fully experience different cultures. One other thing to bear in mind is not to expect fancy wine menus; it's just not in the nature of the local cuisine. However, you can bring your own bottle, if you have your preferences, at no extra charge in this super easy-going atmosphere.
Coming back to our room after the night market extravagance, which is our nightly event while staying on the island, I change up and slip out to meet the ocean again and my wife chooses to walk along it. Rhythmic waves work their magic for getting the extra diet out of the system, and the overindulgence out of my mind! To conclude the eventful day, one last thing is to pencil my thoughts into a journal. It has become part of a new ritual now, to relive the blissful moments of the day before going to bed.
I'm beginning to fall in love with my new routine, which is by and large the old way of life. For people like me–who has spent his entire working life in the hectic corporate office, who feels completely drained by the deafening noises that come at you from all directions all the time, who is also into writing more than anything else–Cheung Chau is one idyllic place, solitary, yet practically a stone's throw away from modernity.